An ingenious plan that surprisingly hasn't been done anywhere in the U.S. is now being developed in California and Texas. CalTrans (California Department of Transportation) is partnering up with environmentally sustainable landscaping company TechniSoil to repave a one-mile stretch three-lane highway. The project began in July and according to CalTrans, the road formulated out of plastic water bottles and is 2-3 times more durable and generates 90% less greenhouse gas emissions than traditional asphalt pavement.
The companies are using 150,000 single-use plastic water bottles. Plastic water bottles never fully biodegrade and will only break down into tiny microplastics that clog up ecosystems. After completion of the project in Butte County, California, Technisoil looks to produce additional plastic road projects.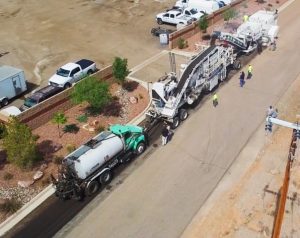 In Freeport, Texas we found similar efforts being made. Dow Chemical took 1,686 pounds of recycled polyethene plastic. They paved two stretches of a local road using the recycled plastic.
"New synthetic binders are going to transform the global road construction or road rehabilitation marketplace, and they're going to allow for roads to be 100% recycled," says Sean Weaver, president of TechniSoil Industrial.