With so many different types of facial treatments to choose from, knowing what one is best for you is tricky. This guide will give you plenty of different facials to consider, the average cost and how to decide. 
Everyday there is a new treatment or new beauty/skin care trend that gains popularity. However, knowing what type of facial treatments that are suitable for your skin and tackles the issue you want to fix is difficult. Often times it can take multiple dermatologist consultations and lots of money spent. 
With this guide to all the different types of facial treatments you will have a much easier time deciding what is best for you. Whether you have money to throw around or are on a budget, there is a treatment for you. Not only is a facial a form of self-care, it is something that can help make you healthier and more confident.
What Are The Different Types of Facial Treaments?
First things first, what are all the different facials out there? There are heaps of facials and they all do different things. Here is a list of the most popular and sworn by facials known for their healing abilities.
Classic Facials
Classic facials are also known as European facials. This type of facial treatment is the most basic on the list. Basic isn't necessarily a bad thing though. It involves cleansing your pores, exfoliating dead skin cells and treating common skin issues with custom masks. 
These make great additions to your regular skincare routine and are an excellent way to practice self-care or have a treat yourself day. Classic facials are an efficient way to maintain, protect and boost your skin. It is a deep clean that leaves you with a more radiant, glowing complexion.
Average cost = $100
Microdermabrasion
Microdermabrasion is one of the types of facial treatments that is slightly more invasive due to the devices that are used. The device has a crystal or diamond tip and is brushed over the top layer of skin. It removes dead skin cells and dirt all while vacuuming it as it comes off. It is said to feel like sandpaper over your face.
Microdermabrasion stimulates cell turnover, collagen and elastin growth. The skin comes out looking healthier with less visible pores, scars and lines. It is a great facial for those looking to reduce fine lines, scars and dullness.
Average cost = $150-$200 
Dermaplanning
Dermaplanning is an advanced exfoliating facial that involves carefully scrapping off dead skin cells with a surgical scalpel. After the exfoliation, your skin is infused with antioxidants and serums to freshen the skin. It is suitable for all skin types, however, those with acne should wait for the breakouts to dry up. It leaves the skin smoother, brighter and allows the products to better penetrate the skin.
Average cost = $150 – $200
Anti-Aging
Anti-aging is a general term for a facial that targets age-related skin problems. This could include chemical peels, microdermabrasion or microcurrent therapy. It is meant to treat issues like wrinkles, lines, dark spots, sagging skin and sun damage.
They boost the collagen in the skin which helps hydrate and freshen the skin. Additionally it can help reduce dry skin as well.
Average cost depends on the type of treatment and can range from $100 to over $1000.
Laser
Laser resurfacing is an invasive facial treatment and the most popular laser used is the Fractional CO2 Laser. The laser creates tiny, microscopic wounds in a pattern that allow the non-wounded cells to support the wounded cells. This stimulates the healing process and allows for new cell generation.
This is the best types of facial treatments for reducing fine lines, acne scars, textured skin and large pores. However, this facial can be more painful and the treatment depends on your skin type. It can cause more damage to acne prone skin or skin with current breakouts. Recovery can take up to 2 weeks.
Average cost = $2000 – $3500
LED Light Therapy
LED light therapy is a non-invasive facial that uses different wavelengths of light to treat different skin problems. The color of light causes different skin reactions. Blue is best for inflammation, whereas red is great for aging and healing. This treatment works with most skin types and works well in combination with other facials.
Average cost = $25 – $100 
Lymphatic Massage
this facial is often used in combination with other types of facials. It provides a relaxing experience as well as reduces puffiness and built-up tension around the face and neck. It involves massaging different areas of the face and neck in order to relieve blockage. Lymphatic massages can help with complexion by increasing circulation.
Average cost = $50 – $150 
Microcurrent
Microcurrent facials are any facial treatment that requires and electrical device. The most popular facials are Galvanic and High Frequency.
Galvanic
This is a type of microcurrent facial that uses galvanic currents to stimulate the face. It is known as a non-surgical face lift and is all about stimulating the muscles. This treatment  tones and repositions the facial muscles to give you a more lifted appearance. It is like an exercise session for your face!
This is one of the best facials for anti-aging and is suitable for all skin types. Additionally, it includes different products and serums that soak into your skin more efficiently. It is excellent for reducing fine lines, wrinkles and promoting collagen growth.
Average cost = $150 – $250 
High-Frequency Facial
This is another type of microcurrent facial and is known as a radiofrequency facial. High-frequency facials uses electrical currents to produce a specific amount of heat to stimulate the deepest layers of the skin. It helps kill bacteria and is great for acne-prone skin. Additionally, it can treat existing acne as well as prevent new breakouts.
Average cost = $150 – $400
Hydrating
This facial treatment does exactly what says, which is hydrate the skin. It begins with a classic facial but the products used are specifically meant to hydrate the skin. A hydrating facial will leave you with pump and supple skin.
Average cost = $50 – $100
HydraFacial
HydraFacial's use a machine that deeply cleans the outer layer of skin using a small vacuum-like tool. It sucks dirt, dead skin cells and excess sebum on the face. It is a great decongesting facial. This type of facial is excellent for those with blackheads, whiteheads and dullness without a major acne problem.
After the cleansing, the same or similar device infuses the skin with serums that hydrate, brighten and leave your skin glowing. This facial is suitable for normal, dry, oily or combination skin. HydraFacial's are often the first step before other facials.
Average cost = $150 – $350 
Chemical Peel
This invasive facial treatment requires the use of acids that promote skin turnover. Chemical peels are effective for skin resurfacing and help decongest, reduce wrinkles, scars, age spots and sun damage. It is one of the most efficient anti-aging facials.
These facials are associated with pain and cost which both depend on the type of chemicals used. Some even require a physician in a medical facility. The lightest chemical peel may take 2 days to heal while deep peels can take up to 6 months. 
Average cost depends on the type of chemicals used but they can start at $100 and can reach $5000. 
PRP Facial
PRP facial is sometimes known as the vampire facial and stands for platelet-rich plasma facial. A doctor will take your own blood and put it into a machine to create platelet-rich plasma. 
The protein rich substance is infused into your skin through micro-needling. It promotes collagen growth and is great for tightening the skin. Additionally, PRP facials are popular for anti-aging.
Average cost = $1000 – $1500
Micro-needling
This facial involves causing small wounds into the skin with tiny needles. It is an invasive treatment and requires numbing cream to avoid pain. Micro-needling encourages cell turnover and collagen growth. It causes the skin to go into urgent healing mode. It takes anywhere from 1 day – several weeks to heal and see results from micro-needling. Additionally, this treatment is a popular anti-aging treatment and is excellent at getting rid of lines.
Average cost = $200 – $700
 How To Select The Right Facial Treatment?
Next, we have to know how to select the right facial. There are so many to choose from, how can we possible know which one is the best for our skin?
Determine What To Treat
Sometimes it requires multiple types of facial treatments to get the job done. The first thing you need to determine is what you want to treat. Is it acne, dry skin or wrinkles? Sometimes the lotions and serums used with classic facials can actually cause breakouts. So those with acne would do better with a clarifying or purifying treatment.
Look At The Ingredients
Another facial hack is knowing or paying attention to the ingredients and products used. For example, vitamin C brightens complexion whereas glycolic acid removes dead skin but can make pores look larger. Before you start, make sure to ask the dermatologist or esthetician.
Find A Professional
Don't just go the cheapest route if you have serious skin issues. Find the right professional, spa and clinic to help you solve your problems. Be sure to do your research, check reviews and testimonials before choosing where you go. The right facialist will walk you through the procedure and help you make the right choice.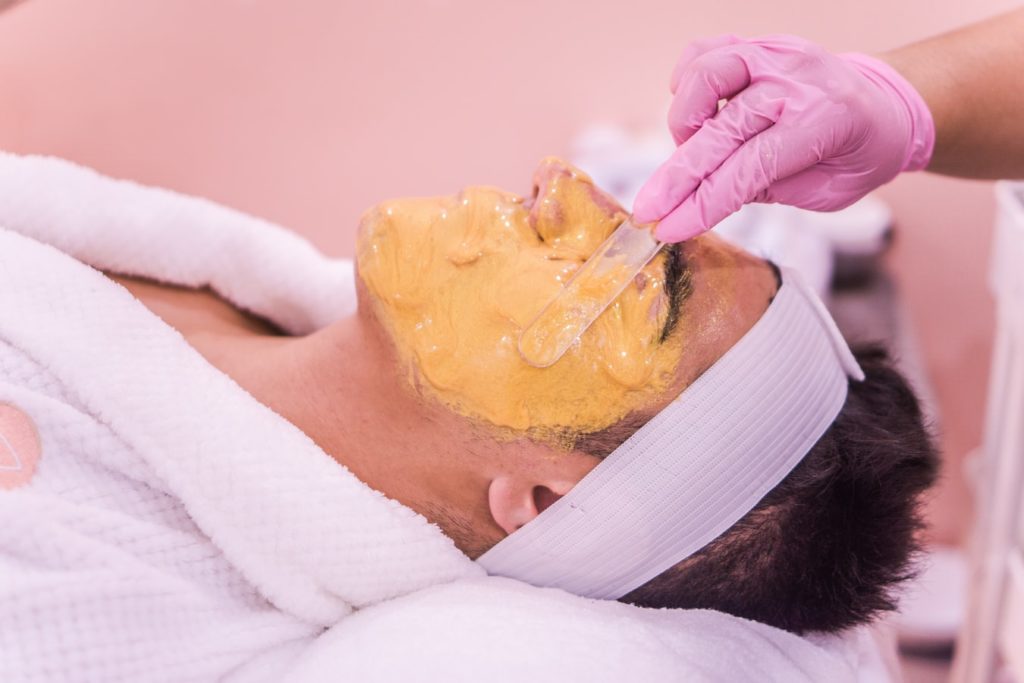 Bottom Line
Deciding of the right type of facial treatment doesn't have to be a difficult task. To ensure you are making the right decision do your research and know your skin type. The treatments are sometimes costly and if you're not ready to make that type of investment, there are products out there that mimic the results of a facial.
The best way to guarantee results is to know your skin, study the ingredients and find the right professional. Lastly, treat yourself with a spa day and when you know what facial you want go for it. You deserve to have glowing, healthy skin and confidence. If a facial will help with that, do it!
Stay Connected