"Reach for the sky!" The beloved character in Toy Story, Woody is known to say. It's moments in movies like these that inspire children and adults from all over the world. In Leicestershire, England a young boy reenacts his favourite scene from Toy Story. The Pixar film has truly made an impression on the young lad, Vinny Donnelly. On his first day of school, he lines up his favourite toys Buzz Lightyear, Woody, and Mr Potato Head to recreate the memorable goodbye scene in Toy Story.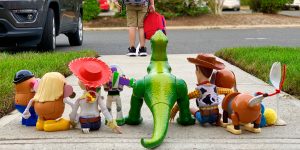 To commemorate the special moment of his first day of school, Vinny's dad took several photos of the 4-year-old waving goodbye to his Toys. Similar to when Andy leaves for college in the movie. 
Cuteness overload the heartwarming photos became viral and have been shared tens of thousands of times from people across the world. 
"I wanted it to look like his future was bright," says Vinny's dad. "It's been quite tough for all the children really this year. If you've got kids, you know that feeling." 
"To infinity and beyond!" – Buzz Lightyear